Kotelnica Ski Complex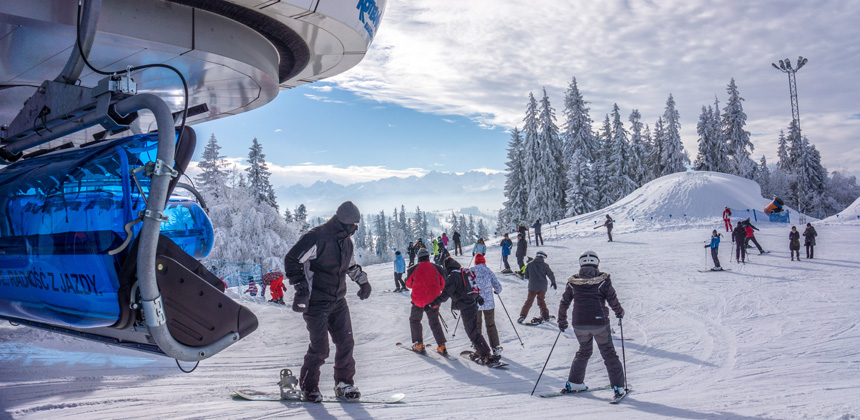 Kotelnica Białczańska is an example of a perfect ski resort, which has been awarded many times in international rankings of this type. It is a truly alpine village with a great variety of downhill routes of different lengths and difficulty levels. Here you will find interesting routes for both advanced skiers as well as for those who are just beginning their adventure with winter sports. The resort has 14 routes including those with the approval of the International Ski Federation FIS. You will also find here over a dozen kilometers of cross-country trail. During winter in Kotelnica Ski Complex there is a 300-metre Snowpark, where you will find various handrails, boxes and jumps. In the resort area there are several regional pubs, ski school and equipment rentals.
Czorsztyn-Ski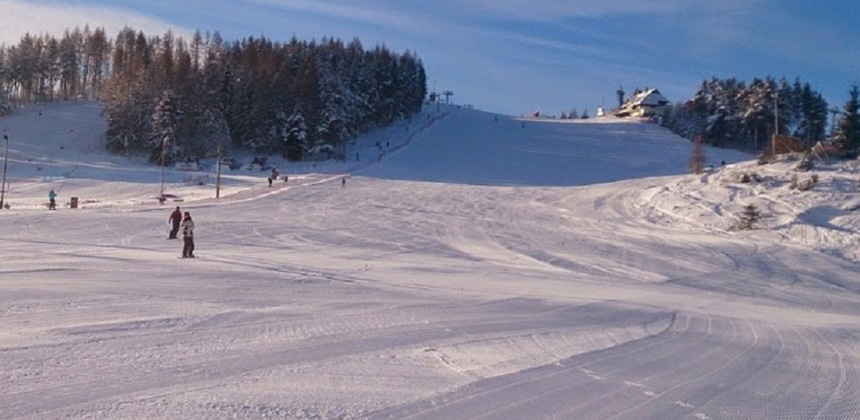 The ski resort of Czorsztyn-ski was built on the slopes of the Wdżar Mountain, from where there is a beautiful view on four sides of the world. On a good weather you can admire the panorama of Pieniny, Gorce, Tatra Mountains, Beskid Sądecki, Beskid Żywiecki, Lake Czorsztyn and Magura Spiska.
Czorsztyn-Ski offers 8 ski lifts, including two chairlifts, T-bar lifts, platter lifts and magic carpet lifts. Here you will find 9 ski slopes from very easy greens to the more difficult red-colored ones. In the resort area there are 3 regional inns, ski equipment service and rental, skiing and snowboarding school. When there is a snowy winter and the weather conditions are favorable, a cross-country trail with a length of 5 kilometres is created around Wdżar Mountain.
Zadział Ski Slope in Nowy Targ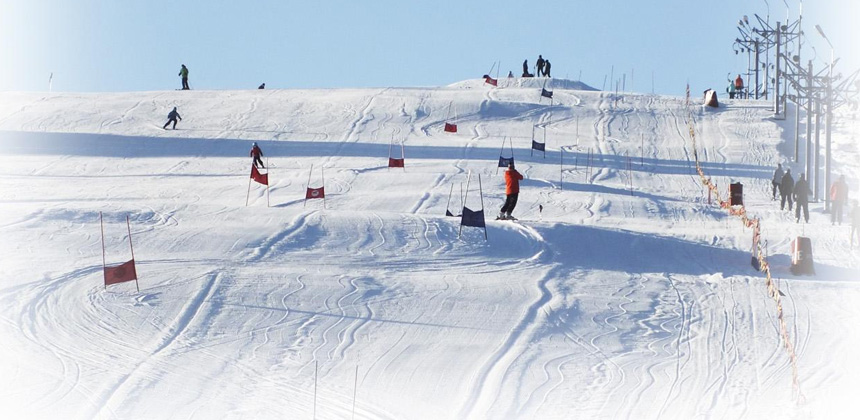 The ski lift Zadział is located in Nowy Targ in the district of the same name. In the offer you will find a double T-bar lift with a length of 550 meters. The level difference on the lift is 83 meters. The advantages of this ski slope are wide downhill route and varying slope, which allow for a great ride for both beginners and advanced skiers. The lift is maintained with a snow groomer. In Zadział there is also a ski lift with a gentle slope that allows beginners to learn, ski school, ski and snowboard equipment rental, a snow park, cross-country trails, dinning places and at the very top of the lift a viewpoint from which you can admire the Tatra Mountains, Gorce, and almost whole Podhale region area.
Harenda Zakopane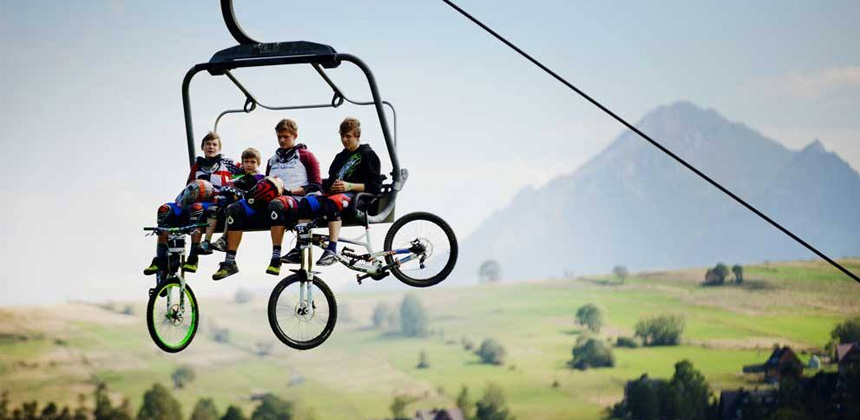 Harenda Zakopane Ski Resort has 6 lifts, including chairlift, T-bar lift and magic carpet lift. The longest of routs reaches a length of 650 meters while the shortest one is 70 m long. The slopes are artificially snowed and lit. It is one of the most demanding ski lifts, offering a black trail for advanced skiers. You will find here everything you need to spend your time well. Culinary facilities, parking space, ski school, equipment rental, skiing kindergarten for the youngest and even an ice rink. The top of the ski lift is located 997 m above sea level. There is a Nordic Walking route leading from Harenda to Gubałówka Hill, taking that route will take you 45 minutes. In addition to downhill runs, you can use the cross-country and ski tour route of a length of 4000 meters, the use of which is free of charge.
Koziniec – Czarna Góra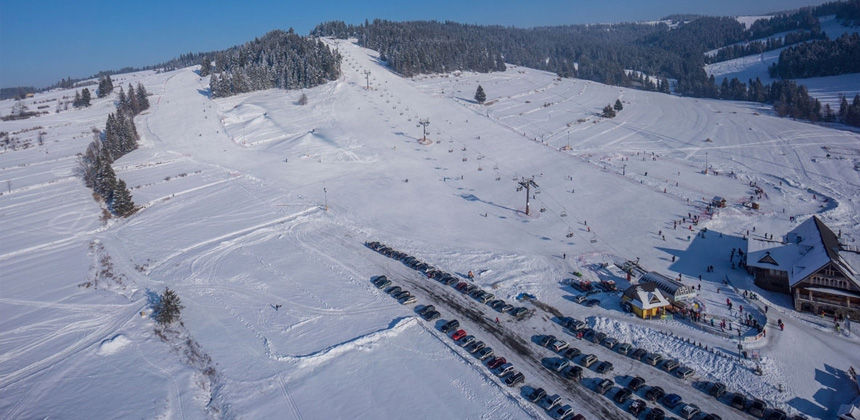 The Koziniec Ski station is located in Czarna Góra, in the neighborhood of Białka Tatrzańska. There is a four-seater chair lift and T-bar lifts. In the offer there are routes with different levels of difficulty from easy blue to harder-red ones. Koziniec has 5 routes, the longest of which reaches 1000 meters and the shortest is 120 meters long. Apart from the beautiful views, you will find there regional restaurant serving local specialities, professional ski school, ski and snowboard equipment rental, and playroom for children of an interesting name " Hundred-mile forest".
Jurgów Ski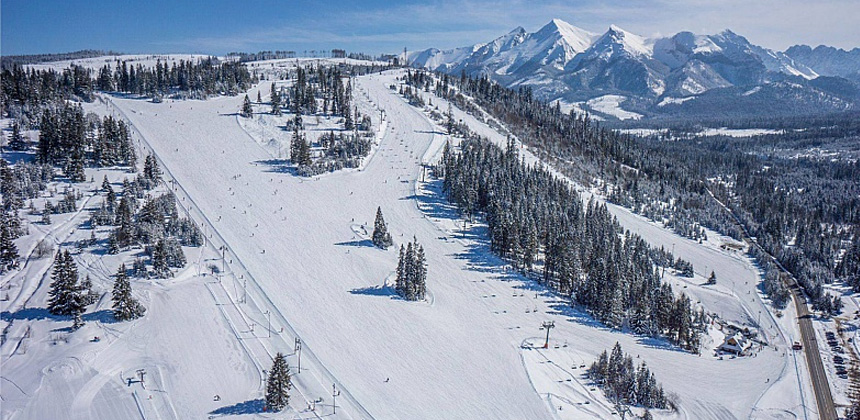 Jurgów-ski resort is located in the village Jurgów (Spisz region) located in the neighborhood of Czarna Góra and Bukowina Tatrzańska. It offers very well prepared trails with two rope lifts and four platter lifts. The longest route reaches the length of 1150 meters and the difference in levels is 200 meters. You can choose from the variety of blue, red and black trails. The resort offers a diversity of dining options, a ski school, ski and snowboard equipment rental and service.
Grapaski station and Litwinka ski lift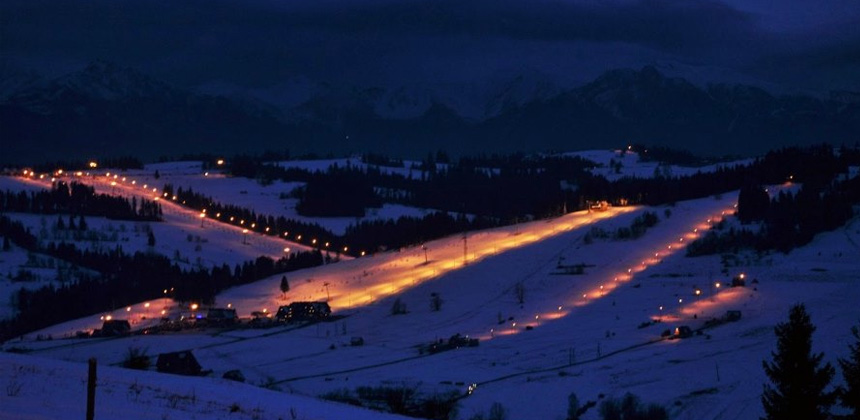 Grapaski complex is located in Czarna Góra on the slope of the Litwinka Hill, which offers a great view of Podhale and region`s surroundings. The complex offers four-seater chair lift that is 1000 meters long and three T-bar lifts. The longest route is marked with a red color, shorter ones are marked blue. The lift is located on the sunny south side of the hill. In Grapaski complex you can use different facilities including a ski rental, a ski school, a dining area, a tavern and a barbecue place. Litwinka, is a place worth visiting, even for the sake of the millennium cross perched on its top. It was designed and constructed in the image of a cross located on Giewont.
By choosing Podhale region and its surroundings for your holiday destination, you can be sure that you will spend your free time as good as possible. There is plenty of ski lifts and various winter attractions! There are ice rinks, rafting routes, snowmobile rentals and what is the most important a great amount of white snow each year. We invite you to spend an active holiday in the mountains.