Gorący Potok Thermal Pools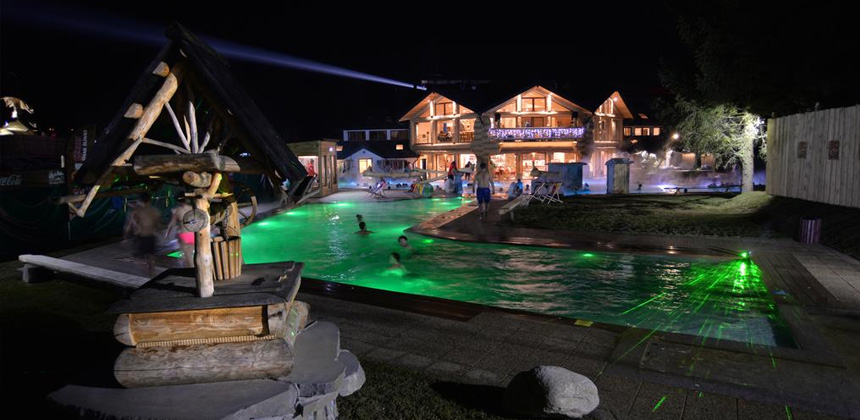 Gorący Potok is a pool complex with thermal water located in Szaflary, near Nowy Targ. Thermal water is treated by UV lamps. It is an innovative method whereby no chemical substances are added to water. Gorący Potok offers 22 pools basins. You can spend some time in pools of very original names, derived from highland dialect, such as Ślebodny Bonor (Free pool), Zawaternik przy Smreku (Wooden log by spruce), Siarcane Koloseum (Sulphur Colosseum) and Wodno Bździągwa(water woman)... You will also find twisted water slides, outdoor pools, restaurants, bistros and seasonal bars with barbecue and a fantastic playroom for children with toys and animations.
Szaflary Thermal Baths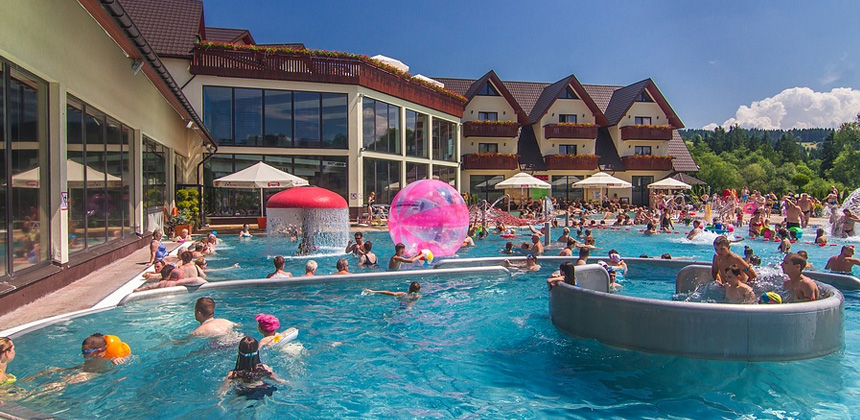 Szaflary Thermal Baths provides four baths with richly mineralized thermal water with a temperature maintained in the range of 30-38 °C, which comes from the borehole operated by PEC Geotermia Podhalańska. There are two outdoor pools and two internal ones available, triple-track water slide and a paddling pool with a water slide for children. Baths are equipped with various types of hydromassage appliances. The entertainment zone is equipped with slides with a total length of over 55 meters. In Szaflary Thermal Baths there are also saunas and a SPA offering relaxing massages. After a day of excitement, you can taste Italian specialties in the restaurant "Pian Camuno" or in the restaurant "Mokra" serving Polish cuisine.
Terma Bania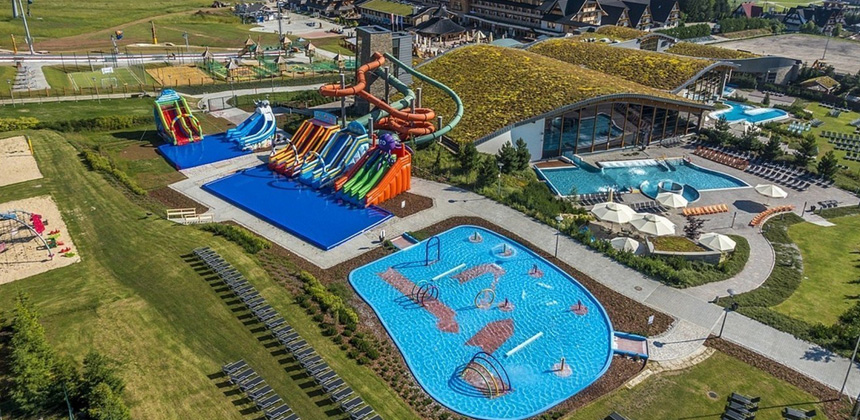 Terma Bania is an example of perfect aquapark. The whole object is divided into zones – depending on your mood – you can stay in a relaxing zone if you look for serenity and quietness, or choose a fun zone full of attractions! Pools are filled with geothermal water in a temperature of 34 - 38°C. The water at Terma Bania is acquired from the depth of 2500 meters and its starting temperature is 72°C. After removing some of its heat, it ends up in indoor and outdoor pools while preserving its precious microelements. Zoning guarantees a successful recreation for visitors of all ages! You can enjoy the water slides, water playgrounds and other water attractions. Terma Bania offers also a wide range of wellness and SPA treatment as well as professional saunas.
Bukovina Thermal Baths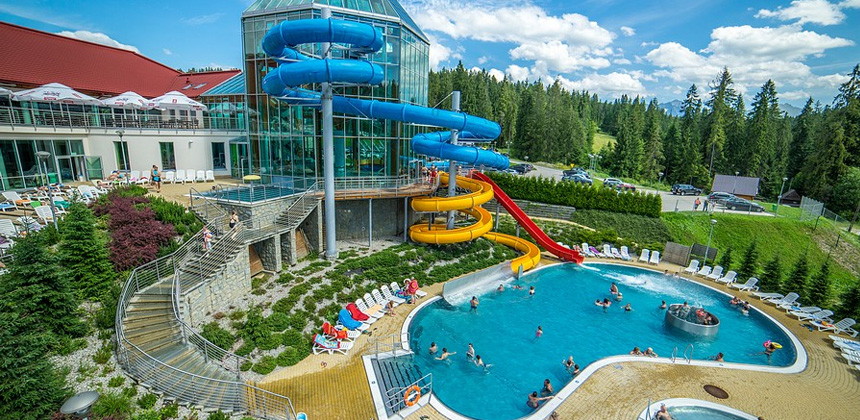 In Bukovina Thermal Baths you will find recreational pools as well as swimming pools, both outdoor and indoor ones. There are fantastic water slides, jacuzzis, saunas and high-mineralized thermal water extracted from the hill of Wysoki Wierch , all that in majestic Tatra scenery. In case of an appetite surge Cafe BUKOVINA, restaurant "Na Wiyrchu" and tavern "Zbójecki Łygotnik" are waiting for you to enjoy rich and diverse menu that will satisfy even the most demanding palates. Bukovina Thermal Baths is a high-class facility that will certainly meet the expectations of even the most demanding aquatic adventurers. Highly recommended!
Chochołowskie Thermal Baths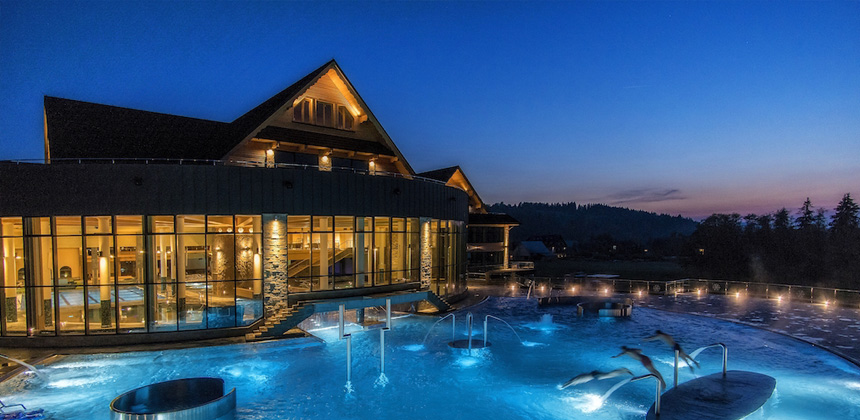 Thermal pools of Chochołów are the largest of its kind in Podhale. Modern technologies that have already been used in the process of construction of the whole complex, increase both the comfort and safety of the facility. Extracted from a depth of 3600 meters, the thermal waters are rich in mineral elements such as sulfur, calcium, magnesium and sodium. There are 8 pools with thermal water, one with brine water, an outdoor pool with a wild river and attractions such as water basketball and water volleyball, waterfalls, geysers and many others. There is also a SPA zone, a salt cave, a steam bath for children and a dining area. We recommend!